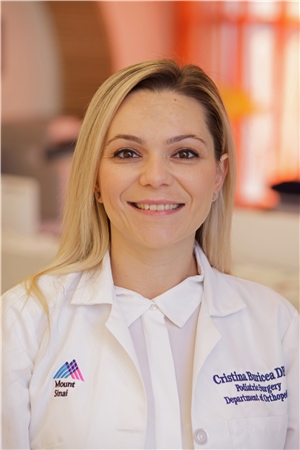 Dr. Buricea attended State University of New York at Stony Brook earning a B.S. degree with a double major in Biology and Psychology. She then completed her medical degree at New York College of Podiatric Medicine followed by, her surgical residency training at Mount Sinai Hospital New York, NY.
Dr. Buricea is Board eligible in Foot and Ankle Surgery and Board Qualified by the American Podiatric Medical Association.
Dr. Buricea knew she wanted to be a doctor when she was a toddler and never let go of that dream. She decided on Podiatry because she was interested in Sports Medicine, pediatrics and geriatrics. Podiatry has been an excellent fit for her given its diversity in patient population, medical pathology and treatment modalities and procedures including surgery.
Dr. Buricea has a passion to keep her patients doing what they love. Throughout Dr. B's career she has been able to help her patients return to the activities that they love by providing care to their foot and ankle via the well-rounded care that she offers.
As much as Dr. B likes fitness, she loves fashion. She understands a woman's foot better than anyone. She personally understands the difficulty women have in finding shoes that are comfortable for work and play. Her goal is to make women's feet comfortable in shoes that support function and fashion.
Dr. B is happily married and has 2 children and 1 dog. She enjoys spending her free time adventuring with her family. Dr. B keeps her family on their "Toes."